NANKAI ALL LINE 2day Pass -WAKAYAMA-

Kada
Enjoy fresh seafood and hot springs
"Tai" sea bream, the lucky representative fish of Kada, has now become a train. Why don't you board this cute medetai train and come visit us in charming Kada for fine cuisine and healing hot springs?

Operates between

Wakayamashi and Kada

Operating times
Fish-shaped hand holds

Sea bream patterns grace the seats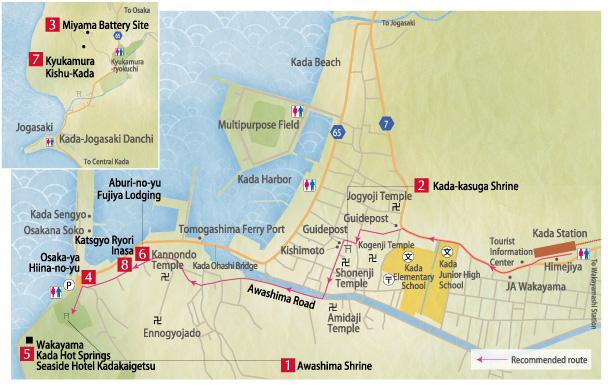 This shrine has attracted patrons since olden days seeking out deities for women to bless their marriages, help recover from female ailments, ensure the safe delivery of babies and provide fertility.

Approx. 20-min walk from Kada Station
The shrine hall features Momoyama Period architecture fine enough to have it designated a national treasure up to the pre-War era. The shrine is notable for its fine carvings.

Approx. 8-min walk from Kada Station
3

Miyama Battery Site(Miyama Battery Observation Deck)

This is a naval defense fort from the Meiji Period, with bricks that give a strong glimpse into life back then. There is an amazing view from the observation deck where one can catch a sweeping view of the island of Tomogashima.

Approx. 50-min walk from Kada Station
Kada Awashima Hot Springs

There are many alkaline baths in the Kada Hot Springs, and the moisturizing waters leaves skin smooth and soft, making it popular with the ladies.

Sea Bream Cuisine

The sea bream of Kada are caught with pole and line. Sea bream are low in fat and high in protein, and highly nutritious.

Day-trip bath : 11:00 to 14:30
Irregular closing days
Fee : Adults 900yen;
Children (2 years and older) 500yen
Face towel included

5

Wakayama Kada Hot Springs Kadakaigetsu

Day-trip bath : 11:00 to 15:00(reception open till 14:00)
Open everyday
Fee : Adults 1,200yen; Children 700yen
Bath towel& face towel included

Lunch : 11:30 to 14:00
(last order: 13:30)

6

Aburi-no-yu Fujiya Lodging

Day-trip bath : 8:00 to 18:00
Open everyday
Fee : Adults 800yen; Children 600yen
Face towel and soft drink included

Open : 10:00 to 20:00
(or until tickets sold out)

Day-trip bath : 12:00 to 15:50
Open everyday
Fee : Adults 1,200yen; Children 600yen

Lunch : 11:30 to 14:00
(last order: 13:30)

Open : 11:00 to 21:00
(last order: 20:00)
Closed : Tuesdays

Perks

Free marine agar pudding for all diners.
Wakayama City
Now is the time to visit Kishu Tokugawa Family Grounds
Wakayama Castle

There are many highlights here, including the stone wall made from a blue stone unique to the Kishu region. Visitors will enjoy its beauty in all seasons - the cherry blossoms in the spring and the leaf colors in the autumn.

(Donjon of Wakayama Castle)
Open : 9:00 to 17:30
(gates close at 17:00)
Fee : Adults 410yen; children
(elementary and JH students) 200yen
Closed : Dec. 29 to 31
Close to 'Koen-mae' stop on the bus from Wakayamashi Station
Wakayama Ramen

There are three kinds of typical Wakayama ramen broths-soy sauce, pork bone soy sauce and the newest-and-upcoming flavors. Why not visit stroll around and sample the different flavor each restaurant favors.

Kuroshio Market

Kuroshio Market, in Wakayama Marina City, is a market that offers fresh seafood sourced locally and from all over Japan. You can enjoy the freshest catch, including tuna - the pride of the locals - with a barbecue, on rice or as sushi!

Get off at 'Marina City' stop on the bus from Wakayamashi Station
Wakaura Tenman-gu Shrine

This is a Tenjin shrine (Tenman-gu) in Wakaura, Wakayama city, Wakayama Prefecture. Its legal name is Tenman Jinja. It houses a deity of academics, and is visited each year by many hopeful students studying for entrance exams.

Get off at 'Gongen-mae' stop on the bus from Wakayamashi Station
Kimiidera Temple

This is stop number 2 along the 33 stops of the Saigoku Kannon Pilgrimage. A beautiful vista awaits those who climb the 231 stone steps. This temple is famous for its higan cherry trees, the first to bloom in the Kansai area.

Get off at 'Kimiidera' stop on the bus from Wakayamashi Station
Kishu Tosho-gu Shrine

Enshrined here are Tosho Daigongen, the deified spirit of Ieyasu Tokugawa, the first shogun of the Edo shogunate, and Nanryu Daijin, the deified spirit of Yorinobu Tokugawa, the first feudal lord of the Kishu Domain. The vermilion-painted tower gate should not be missed.

Get off at 'Gongen-mae' stop on the bus from Wakayamashi Station
Wakayama Bus/Wakayama Bus Naga

Discount Coupon for Sightseeing in Wakayama City

1-Day All-You-Can-Ride pass with a perk

Adults : 1,000yen Children : 500yen

On sale at the Nankai Wakayamashi Station Ticket Vendor
Koyasan
Welcome to the holy grounds of the Shingon esoteric sect of Buddhism.
Koyasan was founded by Kobo Daishi (or Kukai) 1,200 years ago, and is a training ground for the practice of Zen. It was registered as a World Heritage Site in 2004 under the title 'Sacred Sites and Pilgrimage Routes in the Kii Mountain Range', and it welcomes many visitors from around the world each year. Why not go experience the high-altitude holy grounds (900 meters above sea level) of Koyasan during your visit?
Danjo-garan Pagoda (Konpon Daito)

It was reconstructed in its current form in 1937. The vermillion pagoda is 48.5 meters in height and has the 4 statues of Kongokai Shibutsu (the 4 Buddhas in the Diamond World) installed in a circle with the statue of Taizokai Dainichi Nyorai (the Buddha in the Womb-Store World) placed at the center. Various bodhisattvas are depicted in brilliant colors on the 16 pillars and walls of the pagoda representing a mandala world.

Open : 8:30 to 17:00
Fee : 200yen
Get off from the bus from 'Koyasan Station' at 'Kondomae'
Kongobu-ji Temple

This is the head temple for the Shingon sect of Buddhism on Koyasan, and the religious affairs of the 3,600 branch temples across Japan are handled here. Visitors can see rooms with splendid fusuma separators painted by historical painters, the magnificent kitchen, as well as Hidetsugu-jijin-no-ma (the room where Hidetsugu committed seppuku).

Open : 8:30 to 17:00
(entrance is closed after 16:30)
Fee : Junior High students and older: 500yen; Elementary students: 200yen
Get off the bus from 'Koyasan Station' at 'Kongobu-ji-mae'
Okunoin Gobyo Mausoleum

After the death of Kobo Daishi, his disciples built this mausoleum in the area beside the Tamagawa stream. Many people still visit this place today venerating it as the central holy grounds for their faith in Kobo Daishi.

Get off the bus from 'Koyasan Station' at 'Okunoin-mae' or 'Okunoin-guchi'
Chuo Shokudo Sanbo

We recommend this vegetarian meal set--it's politely laid out, it's delicious and it's good for you. They offer local tastes and seasonal ingredients, like sesame tofu, tofu skin, seasonal wild vegetables, all in tasty and healthful meal. Their soy-and-barley rice is highly acclaimed. They use dishes locally made by an artisan with a kiln on Koyasan.

Open : 10:00 to 17:00
Irregular closing days
Get off the bus from 'Koyasan Station' at 'Senjuin-bashi'
Koyasan Area Buswith a perk

Use this pass to ride the Koyasan Bus as much as you want!

1-Day All-You-Can-Ride pass

Adults : 830yen Children : 420yen

Perks like 20% off the temple entrance fee and 10% off souvenirs and food/drink
On sale at: Koyasan Station Bus Terminal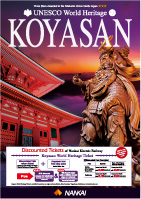 For more information check out this pamphlet available at the main stations along the Nankai Railway.
Kudoyama
Travel to the quiet peaceful home village of Yukimura Sanada
Kudoyama is a peaceful area where Yukimura Sanada was quietly living. Not only is this an historical spot linked to the Sanada family, but is also full of brilliant World Heritage temples and shrines. There also restaurants and shops for gourmet cuisine, local souvenirs and other merchandise. Come and visit this charming town.
Kudoyama/Sanada Museum

The Kudoyama/Sanada Museum opened in Kudoyama, where Yukimura Sanada is said to have lived the longest in his life, to commemorate the NHK Taiga Drama 'Sanada-maru'. Here you'll learn all about the life of Yukimura Sanada and his father in Kudoyama.

Open : 9:00 to 17:00
(doors close at 16:30)
Closed : Monday, Tuesday, 7/13~7/14, 12/29~1/3
Fee : Adults (High school and older) 500yen;
Children (Elementary and Junior High students) 250yen
Approx. 10-min walk from 'Kudoyama Station'

Sanada Manor (Zenmyosho-in Temple)

This is a temple built on the site where the manor stood that Yukimura Sanada and his father Masayuki lived in hiding. On the premises is the kaminari fuuji no i (Well of Captured Thunder), where legend tells of how Yukimura captured thunder to save villagers, as well as the Sanada Repository of Treasures. The large blooming peony in spring at the Sanada Manor are a must-see.

Sanada Repository of Treasures
Open : 9:00 to 16:00
Fee : 200yen
Closed : End of year and beginning of New Year
Approx. 10-min walk from 'Kudoyama Station'

Jison-in TempleWorld Heritage Site

Jison-in Temple has long been known to be the temple of the mother of Kobo Daishi Kukai. It is affectionately called the Koya for Women since Koyasan was off limits to women. The temple is an extreme rarity in Japan where breast-shaped votive tablets are given as offerings for the numerous prayers made for successful pregnancy, safe births, rasing children safely, smooth breastfeeding, and for convalescence from illnesses. Recent years have seen the number of prayers for convalescence from breast cancer increase in particular, with many women visiting the shrine to prayer with fervor.

Approx. 30-min walk from 'Kudoyama Station

Tanimoto Manjudo

This is a long-standing shop founded approximately 60 years ago. Their dango dumplings are very popular, and patrons can purchase as few as one. Try one today!

Open : 8:00 to 18:30
Closed : Wednesdays
Approx. 5-min walk from 'Kudoyama Station'

Perks

Dango Dumplings
Package of 5 sticks 430yen → 400yen
Package of 10 sticks 860yen → 800yen