Uranamba
APIZZA OSAKA NAMBA
APIZZA OSAKA NAMBA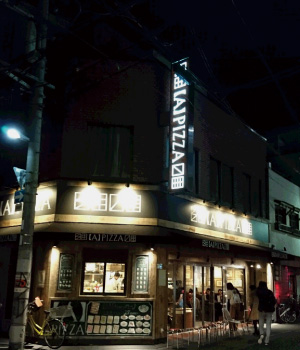 We bake a pizza in the stone oven after the order.
The square pizza is popular among our customers.
We, APIZZA, always welcome you and serve you a hot and chewy pizza.
Close to NAMBA KAGETSU!!
A conspicuous restaurant [APIZZA OSAKA NAMBA]
Our menu is understandable because it includes a lot of pictures.
We have a plan for a party. Depending your order, we can arrange it. We also have all - you can eat and drink menu.
Fresh salad with vegetables from the farm
You can enjoy the salad with olive oil♪ Please enjoy the taste of the vegetables.
Caprese that includes mozzarella cheese
Cherry tomato and milky mozzarella cheese are used in this dish. It is the one of the most popular menu.
Rice croquette of cheese risotto
Please enjoy it with bisk sauce made from omar shrimp.
Ahijo with seafood and mushroom
The collaboration of hot anchovy garlic oil and seafood.
Margherita
A Napoli pizza loved by the queen Margherita
Basile 5 of anchovy olive
A pizza which includes basile sauce
Pepperoni
Slices of spicy sausage and salami are on it.
Funghi (White)
A lot of species of mushroom with cream sauce!
White sauce, eringi, shimeji, mushroom
Shirasu and perilla
A Japanese style pizza whose soy milk and miso sauce match
Shirasu, soy milk miso sauce, perilla, green onion, ponzu sauce
Mayonnaise potatoes (white)
Pizza white sauce with garlic and mayonnaise.
White sauce, potatos, corn, tuna, 3 kinds of cheese
Store Information
APIZZA OSAKA NAMBAAPIZZA(エーピッツァ)大阪なんば店

Address

4-36, Sennichimae, Nanba, Chuo-ku, Osaka-shi, Osaka

Opening hours

Monday - Saturday : 11: 30 ~ 23: 00
Sundays and holidays : 11: 30 ~ 22: 00

Holiday

-