Uranamba
Sennichimae Nikusushi
Sennichimae Nikusushi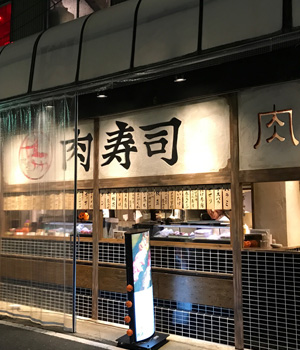 I've already enjoyed normal sushi and want to eat something new.
At Nikusushi, you can eat horsemeat sushi.
In addition to it, beef, pork, chicken are served in various kind of way of cooking.
We serve fresh horsemeat, beef, pork, chicken.
We would like you to enjoy various kinds of creative sushi in which horsemeat, beef, pork, chicken, duck are used.
The popular menu!!
The specialties!! Sashitoro!!
There is one slice of rib roast of domestic cattle on top of the sushi.
It is flavored by rock salt and pepper and cooked right in front of you.
Red horsemeat.
The must-eat menu, red horsemeat.

Fatty cut of Wagyu & sea urchin gunkan.
It is a sushi which includes Wagyu and sea urchin. You cannot enjoy it anywhere else.
Store Information
Sennichimae Nikusushi千日前肉寿司

Address

4-36, Sennichimae, Nanba, Chuo-ku, Osaka-shi, Osaka

Opening hours

Monday - Sunday 17:00 - 24:00

Holiday

3rd Sunday