Torame Yokocho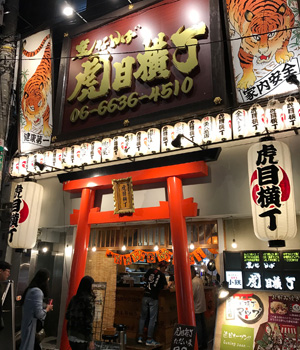 This time, we introduce a popular restaurant among foreign visitors in Uranamba "Torame Yokocho".
Torame Yokocho is a food-court style facility which consists of 9 small restaurants.
It is an unique facility where 9 restaurants offer pretty wide variety of food.
Here, you can fully enjoy local specialties of Osaka. That is the reason why it is popular among foreign visitors.
Torame Yokocho is focused on as a new visiting spot in Osaka.
Some restaurants deal with local specialties like Okonomiyaki, Sushi, Kushikatsu, broiled pieces of beef.
The feature is that you can have food delivered from other restaurants.
Today, we took a seat in Yakiyaki Teppan Bonkuraya.
You can see "Teppanyaki food", one of the Osaka's food cultures skillfully cooked.
Chopsticks have a fortune.
If you draw super lucky, you get one drink for free.
It is fun to see the Okonomiyaki, Teppanyaki cooked skillfully right in front of you.
The famous local specialty "Butatama", pork Okonomiyaki.
"Ikayakisoba", noodle which includes squid.
Each table has a hot plate, so the food is kept hot.
Now, we use catering service, the characteristic service of the facility.
To use the service, you take the plate of your table to the restaurant.
You won't have any difficulty to make an order because each restaurant has foreign language menu.
The catering is delivered soon.
Here, we eat Sushi and Teppanyaki food at the same time.
You can't experience it anywhere else!
You can use catering service again and again.
Now, we order Kushikatsu.
You can enjoy wide variety of food at one restaurant, or go to other restaurants and exprerience their different atmospheres.
Store Information
Torame Yokocho虎目横丁

Address

2-3-15 Sennichimae, Chuo-ku, Osaka

Opening hours

Tuesday ~ Thursday/Holiday 12:00am~12:00pm (LO. 11:30pm)
Friday, Saturday/the day before holiday 12:00am~5:00am (LO. 4:00am)

Holiday

No scheduled holiday
* Opening hours depend on the restautants.