Enjoy the winter of Mt.Kongo!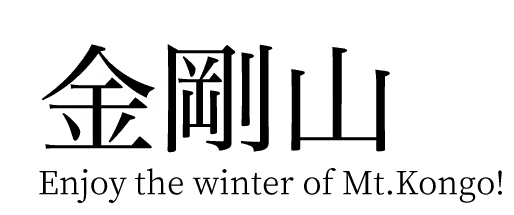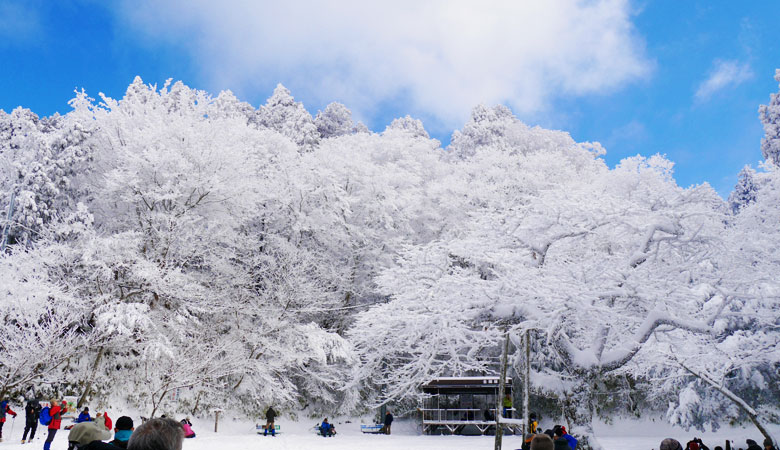 Mt.Kongo is the mountain with a height of 1,125 meters.
It is famous for its beautiful scenery in all seasons, and it's said that the number of people climbing the mountain is second in the country behind Mt.Fuji. It has a great access from Osaka City, with 30 minutes of train from Namba station, and 40 minutes of bus from there, so approximately 70 minutes from Namba.
Especially in winter, Mt.Kongo would be covered with snow, and there would be a silver world with frozen trees.
*Frozen trees are made in tempertures below 0 degree celsius. An ice frost sticks to the tree, and creates a beautiful structure.
How to climb Mt.Kongo in winter
Items must needed

crampons to prevent slipping, warm and easy to move clothings
Time needed

approximately 3 hours
From Namba, the middle of Osaka, please take express train of Nankai Koya Line, and get off at Kawachi-Nagano station.
Take the bus bound for "金剛山ロープウェイ前 (Mt.Kongo Ropeway)", and get off at "金剛登山口バス停 (Mt.Kongo starting point)".
(The name of the bus stop would be displayed on the front screen of the bus)
After getting off at the bus stop, there is a bathroom at 50m ahead. We recommend going to the bathroom before you start walking. Right near the bathroom, there is a small shop selling crampons and gloves.
These items must be needed to climb Mt.Kongo. The price of crampons are around 1,200yen - 2,500yen.
Even if you are not sure whether you can climb the mountain or not, don't worry. There is an aerial ropeway that would bring you near the top! In that case, please take the bus to "金剛山ロープウェイ前バス停 (Mt.Kongo Ropeway)", and transfer to the ropeway.
The fee for ropeway is adult 750 yen and child 390 yen.
If you buy the roundtrip ticket, there would be some discount. If you take the ropeway, it would be just 40 minutes walk from there to the top.
Let's start walking!
There are 10 stations in Mt.Kongo. Until the second station, there are lots of stairs, so beginners might get tired here.
Please take a rest frequently, and eat some foods to fuel up the energy.
The sights you can see along the tracking path is very beautiful, but please be careful not to slip!
We've made it to the fifth station. There is a bathroom at this station.
Also, there is a structure of "Ultraman" and monster. Fifth station is some spot that many tourist take a photo.
Far away from the crowd and industry of the urban city, you would be able to feel the great nature at here Mt.Kongo.
On the way to the top, you would be able to see rare frozen trees.
*Be careful not to slip when taking a photo!
It took an hour to get to the top! We were amazed by the marvelous sight from the top.
Cherry blossom trees are covered with powder snows, and it looks like the flowers are blooming!
There is a temple at the top. Please make your wish here. On the day we went there, there was a happy dog!
The snow sometimes pile up to 17cm. You would be able to enjoy the snowy world without going to Hokkaido!
The sight from the path when getting down the mountain is very beautiful as well!
There won't be any steps on your way back, and you would have to get down a slope.
Please be careful not to slip.
After getting back to the bottom, take Nankai Bus to Kawachi-Nagano station, and take an express train bound for Namba to get back to Osaka City.
The great journey comes to an end.
*If you plan to go to Mt.Kongo, there is a discount ticket called "Mt.Kongo Hiking Ticket".
Round trip discount ticket for Nankai Railway and Nankai Bus, and 20% discount of ropeway as well!!
There are other privileges!!