Full of Delicious Food!! Let's Take KADA Line!! / Nirigahama Station Whitebait, taste and rate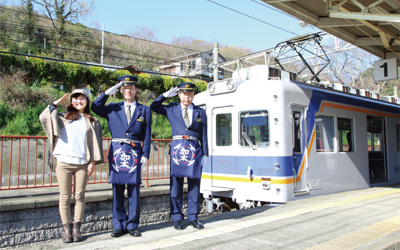 Full of Delicious Food!! Let's Take KADA Line!!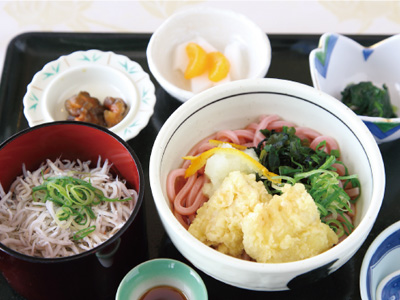 Enjoy Kishu gourmet and super sea view
Resort Hotel at the top of the hill. Overlook the super view known as Kada's Seto from rooms and restaurants.
Full of Kishu gourmet, especially at lunch time, we promote the 1230yen set [Black Eal Tempura Udo] (plum flavor Udon with Kada's new specialty, black eels as the topping, and fried whitebait rice)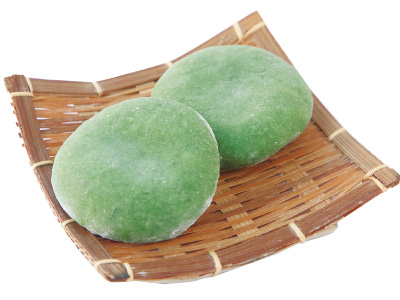 slightly sweet wormwood rice cake
Using local wormwood, 5 wormwood rice cake in 600yen is our specialty. Soft rice cake is made by carefully steamed and pestled glutinous rice, moderately sticky and never stuck to your teeth.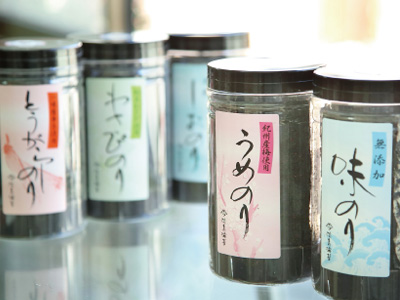 Be addticted to sweet red bean paste that boiled to the perfect degree and natural smell of wormwood.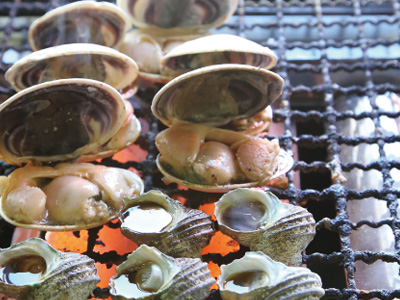 savory and juicy broiled shellfish
Broiled shellfish (2 of a plate) which is sold at the front of the store, makes you not able to stand its savory smell of soy souce and elastic textur.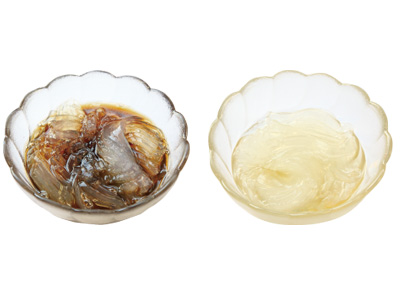 Besides, fresh sashimi is also recommended. And, do not miss the healthy meal made by natuaral agar weeds planted in Kada.
Sakita store (Awashima store)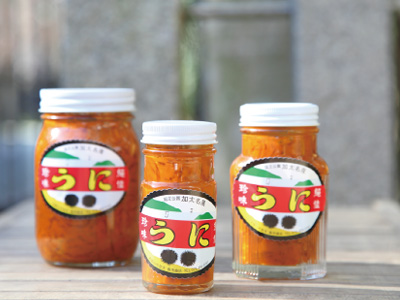 delicate flavors with the texture of jellyfish
Have been at the path to Awashima-jinja Shrine about 70 years. Passed on from generation to generation, [jellyfish with sea urchin, 800yen] is our most popular one, which has awesome flavor of crunchy shellfish with delicate paste of sea urchin. Of course it goes well with rice and also goes well with liquors.
Attention!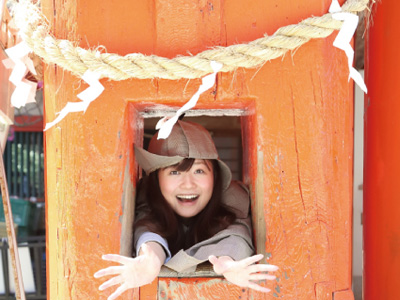 Awashima-jinja Shrine
Since Kishu Tokugawa family dedicated dolls at the vermilion-painted shrine, now there are a lot of dolls dedicated here. Various locations are thought to be flowing with mystical energy. For exemple, passing through the hole of "the mast of Kinokuniya Bunzaemon's oranges ship" will make wishes come true.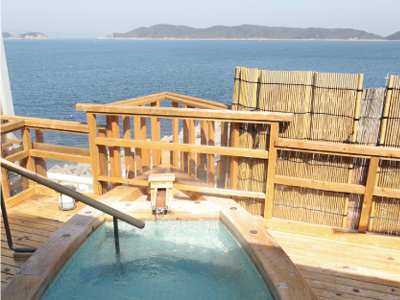 Osaka-ya Hiina Spa
The Spa hotel is at the scenic spot which is praised in Japan's oldest anthology of poems, Manyoshuu. Customers can have a panoramic view of the striking scenery of Kada shore. At the same time, overlook the Tomogashima Island which is full of nature and leisurely bath in Alkaline carbondioxated spring that is expected to make skin beautiful. If you wish to have a view of the beautiful sunset, we recommend you to stay here.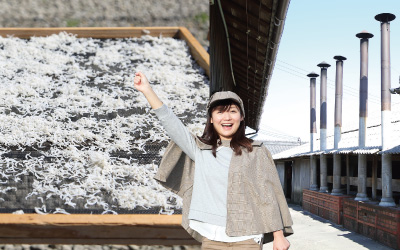 Nirigahama Station Whitebait, taste and rate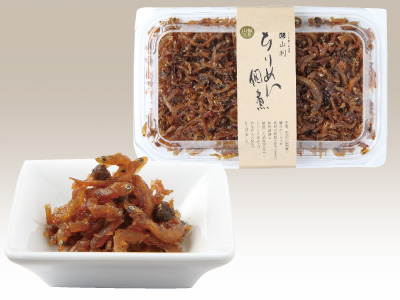 Japanese pepper Piriri!
Tsukudani for adult, a preserved food boiled in sweetened soy sauce
An old store of 7 generations standing. We use Kishu soy sause, local liquors and whitebait which is dipped with natural sault and dried out in the sun to cook the fragrant Tsukudani. With spicy Japanese pepper of Aridagawa-cho, Shimizu--adult's profound taste.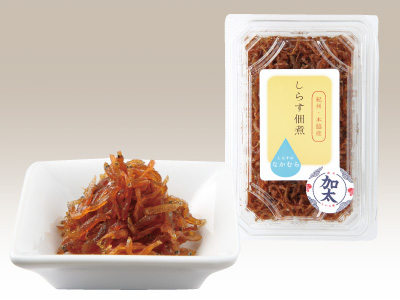 the more you bite the more deliciousness you taste!
[Kamaage Shirasu], boiled whitebait which is boiled by the old-fashioned stove. By using the sun-baked [Kamaage Shirasu] with local ginger, [the whitebait Tsukudani], (a preserved food boiled in sweetened soy sauce) is our popular souvenir. The whitebait is a little bit hard. The more you bite the whitebait, the more deliciousness you will taste!
Kanenaka store Whitebait Nakamura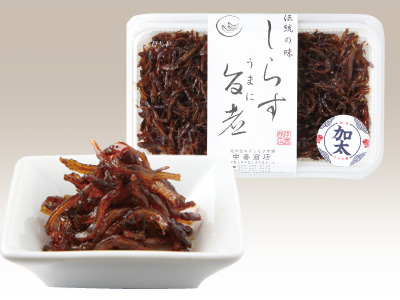 Raw whitebait with simple seasonings!
Established in the Meiji period, we directly use fresh whitebait caught at the offshore area in Kishu Kada to provide the soft texture. Seasonings is made by Kishu's high quality soy sauce and brown sugar to appear that simple taste. Be addicted to the slight sweetness.
Let's stroll in the stopover!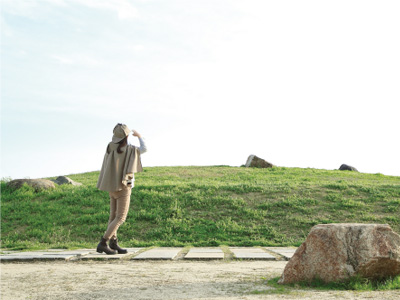 Nakamatsue Station
Female history buff, Be attention!
Here is a park that customers can climb up to tumuluses. Built in Middle of Kofun period, the ancient burial mound, square at the front and rounded in the rear, including the moat and the outer levee total length is about 110~120m. It is the biggest ancient burial mound in the prefecture. Also it was the only place in Japan where the precious "magatama" (comma-shaped beads) were unearthed. Now, as a park, here is a popular spot for people to feel historical romances.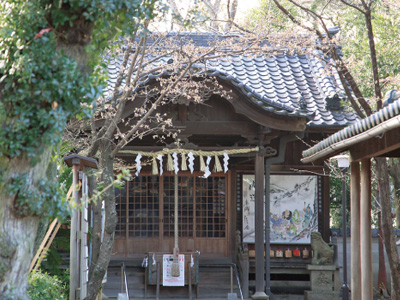 Nirigahama Station
Only on the Autumn Festival Kishu confection is coming back!
Iyatohachiman-jinja Shrine is an old shrine also known as "Itoki-jinja Shrine". "Itoki", the name comes from the "Itoki mochi". "Itoki mochi" is a rice cake cut by strings of a bow. It was used to be dedicated to Empress Jingu, (A.D. 170 - June 3, A.D. 269) a wife of Emperor Chuai. Now, on the day of Yoimiya Festival in October (the eve of a festival vigil) the miraculous Kishu confection is coming back.
Iyatohachiman-jinja Shrine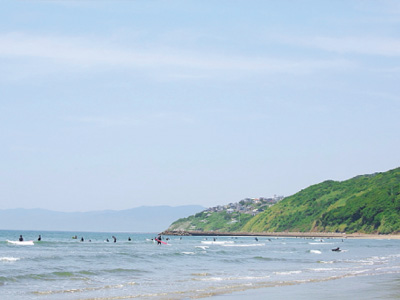 Isonoura Station
A surfing spot with an easy access
As a surfing spot near to Osaka, whole year here is a popular spot for both beginners and experts. Customers can get to Isonoura beach from Isonoura Station immediately. During July and August, here is exciting and lively by water activities and barbecue.