Chinese New Year 2016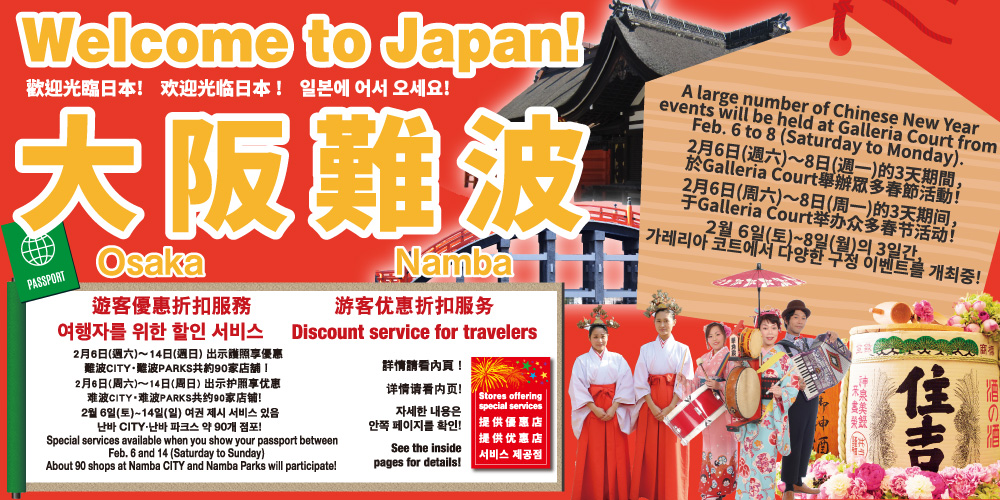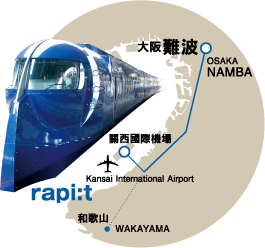 Approx. 38 min. by Limited Express Rapi:t
Convenient direct access to Namba City and Namba Parks from Kansai Int'l Airport!

Multilingual concierges will be standing by at various locations including Namba Galleria and distributing discount coupons you can use when you show your passport. They are also available to help you if you have any questions or problems.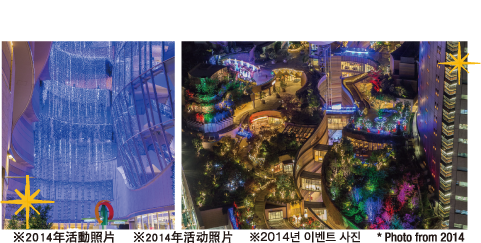 The light displays decorated with some 600,000 LEDs are one of the largest scales in Osaka City!
Namba glitters with a waterfall of lights, trees, etc.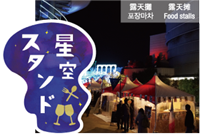 Namba's Delicious Food with Japanese Sake February 6 (Sat) to 14 (Sun), 2016: total 9days
Weekday: 5 p.m. to 10 p.m./
weekend & holiday: 2 p.m. to 10 p.m.
Namba Carnival Mall
Tax-free counter
Tax-free counters are open at the 2nd basement floor of the main building of Namba CITY (Open: 10:00-21:00) and the 1st floor of Namba Parks (Open: 11:00-21:00)!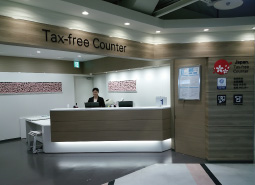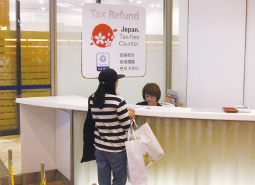 Event InformationSat., Feb. 6 - Mon., Feb. 8, 2016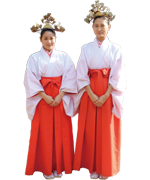 Write a wish on an ema (small wooden plaque)!
In Japan, there is a custom of writing a wish on an ema when you visit a shrine and then hanging it up as an offering. If you're lucky, you may encounter one of the genuine shrine maidens of Sumiyoshi taisha.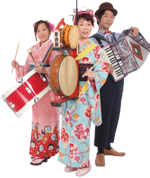 A chindon'ya (Japanese marching band) will appear and march through Namba!
It will lead everyone from Galleria Court to the Aozora Stand food stalls. (It is scheduled to take place three times per day.)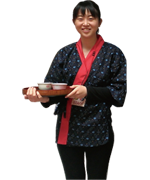 Be served free Japanese green tea!
Enjoy the events at your leisure while drinking your tea.
Retail kiosks
They will offer a selection of products made in Japan.
About 100 Shops

The shopping center contains around 240 shops including fashion stores and restaurants. This shopping center attracts many people who use Namba Station.
Shops 10:00-21:00 Restaurants 10:00-22:00 Closed on Feb. 18 and 19. (Some of the shops are open early morning and late at night.)
Namba CITYMain Bldg. B1F
Main Bldg. B1F

ChineseRestaurant

TAIWANSYOUROMPOU

Main Bldg. B1F

Hamburger Steak

HAMBURG RESTAURANT SHOWACHO BOSTON

① Lunch time limited (~16:00) one soft drink free (you can select your preferred one) for customers who order lunch hamburger
② Dinner time limited (17:30~) one drink free for customers who order hamburger. Alcohols are available.

Main Bldg. B1F

Tonkatsu FriedPork Cutlets

KYK

The meal cost 5% off *Not available with other discount

Main Bldg. B1F

Ladies' Fashion &Misc. Goods

MUKU CLIMB

With a purchase of ¥10,000 excluding tax or more, 8% off

Main Bldg. B1F

Cosmetics

MISUGI

With any purchase, get a sample present

Main Bldg. B1F

Mobileaccessories

Lupine

5% off (except for sale products and part of products)

Main Bldg. B1F

Mail-order &Cosmetics

KANSAI TV HAZZ

With a purchase of ¥10,000 excluding tax or more, ¥500 off

Main Bldg. B1F

MassageSalon

Natural Garden

Main Bldg. B1F

Cosmetics &Supplements

ATTENIR

With a purchase of ¥5,001 excluding tax or more, get three 'Total Revitalize Mask' + basic cosmetic sample

Main Bldg. B1F

Men's & Ladies'Fashion

BEAUTY&YOUTH UNITED ARROWS

With a purchase of ¥5,000 excluding tax or more, Get a novelty present (Limited availability)

Main Bldg. B1F

Body CareCosmetics

Sabai-arom

With a purchase of ¥10,000 excluding tax or more, 10% off

Main Bldg. B1F

Cafe

Starbucks Coffee

Get STARBUCKS VIA® COFFEE ESSENCE (1 stick)
Namba CITYMain Bldg. B2F
Main Bldg. B2F

Shoes

REGAL SHOES

With a purchase of ¥10,000 excluding tax or more, get a novelty present

Main Bldg. B2F

Fair TradeFashions

SISAM KOBOU

With a purchase of ¥10,000 excluding tax or more, get a novelty present
Namba CITYMain Bldg. 1F
Main Bldg. 1F

Ladies' Fashion &Clothing Accessories

grace

With any purchase, get a novelty present (Offer is subject to availability)

Main Bldg. 1F

Seafood/Sushi

Tenka-no Daidokoro DAIKI SUISAN

Main Bldg. 1F

Ladies'Fashion

Twelve Agenda

Main Bldg. 1F

YakinikuBarbecue

Yakiniku GYUTA

Main Bldg. 1F

Shabu-shabu &Sukiyaki

TAJIMAYA

Main Bldg. 1F

Stationery

Pelle Penna

A purchase of ¥5,000 excluding tax or more, get a frixion ball (¥180); a purchase of ¥10,000 excluding tax or more, get a nail clippers

Main Bldg. 1F

Shoes

JELLY BEANS

During the period, Point card for foreign customers point double (for customers who made point card only)

Main Bldg. 1F

Ladies' Fashion

Jewel Changes

With a purchase of ¥15,000 excluding tax or more, 10% off
Namba CITYSouth Bldg. 1F
South Bldg. 1F

OkinawaCuisine

OkinawaCuisine
About 160 Shops

Housing around 250 stores including fashion retailers and restaurants, the shopping center is a complex type with a lush green rooftop garden and a movie theater.
Shops 11:00-21:00 Restaurants 11:00-23:00 Closed on Feb. 16 and 17. (Some of the shops are open early morning and late at night.)
Namba PARKS1F
1F

Men's Underwear

Luscious

Present an original bandana *Offer is subject to availability

1F

Fashion Accessories

ONSPOTZ

Present an original cap brush
Namba PARKS2F
2F

Ladies'

mignon et enchaînement

Present original mineral water (1 bottle)

2F

Men's, Ladies'

AMERICAN RAG CIE

With a purchase of ¥10,000 excluding tax or more, get a novelty present *Limited availability

2F

Men's, Ladies', Kids'

ZADIG&VOLTAIRE

With a purchase of ¥10,000 excluding tax or more, 5% off

2F

Ladies'

VIVIENNE WESTWOOD ANGLOMANIA

With a purchase of ¥20,000 excluding tax or more, get a novelty present

2F

Ladies'

fredy & GLOSTER

With a purchase of ¥10,000 excluding tax or more, 5% off (including sale items)

2F

Men's, Ladies'

Sharing Room Heather/RAGEBLUE

With a purchase of ¥10,000, 5% off / With a purchase of ¥20,000, 10% off

2F

Men's, Ladies'

graniph

With a purchase of ¥1,000 excluding tax or more, 5% off

2F

Eyewear

JINS

Novelty present to the first 50 customers who purchase glasses

2F

Cafe

STARBUCKS COFFEE

Present STARBUCKS VIA® COFFEE ESSENCE (1 stick)
Namba PARKS3F
3F

Ladies'

un dix cors

With a purchase of ¥10,000 excluding tax or more, 5% off

3F

Shoes, Ladies' Fashion

HITMAN&Co.

A more 10% off for shoes sale products, 5% off for regular price products *expect for part of products

3F

Socks

KUTSUSHITAYA

With a purchase of ¥1,500 excluding tax, get an original novelty shoe keeper

3F

FashionAccessories

FULL SPOT

3F

Fashion Accessories,Accessories

CO*STARRING

Original accessory 5% off

3F

Accessories

EXPRIMER for gift

3F

Café

ELMERS GREEN CAFE in the park

3F

Ladies'

Perle Pêche

With a purchase of ¥10,000 excluding tax or more, 5% off

3F

Herbs, Aromatherapy

Tree of life

With a purchase of ¥1,000 excluding tax or more, get a shampoo sample / With a purchase of ¥5,000 excluding tax or more, get herb tea (10 bags)

3F

Relaxation &Beauty Salon

Natural Gardenbeauty close

3F

Shoes, FashionAccessories

MINNETONKA STORE

With any purchase of shoes, get a novelty present. *Offer is subject to availability

3F

Room Fragrances

Millefiori

With a purchase of ¥5,000 excluding tax or more, get a novelty present

3F

Men's, Ladies', Kids'

COMME CA STYLE

With a purchase of ¥5,000 excluding tax or more, get a teddy bear strap (200 limited)

3F

Ladies', Kids'

next

10% off *With a purchase of ¥10,000 excluding tax or more (except for sale items)

3F

Men's, Ladies'

ORIHICA (LANDMARK)

With a purchase of ¥10,000 excluding tax or more, 5% off

3F

Jewelry,Accessories

festaria VOYAGE

Present a cubic charm *First come, first served

3F

Shoes

ABC-MART Premier Stage

With a purchase of ¥5,000 excluding tax or more, ¥500 off; With a purchase of ¥10,000 excluding tax or more, ¥1,000 off
Namba PARKS4F
4F

Bags, Leather Goods

Ain Soph

Novelty present (pass case)

4F

Men's, Ladies',Fashion Accessories

GUESS

10% off (except for watch / perfume)

4F

Shoes

JEFFREY CAMPBELL

Present Jeffrey Campbell original goods *Offer is subject to availability

4F

Men's

Distinction MEN'S BIGI

With a purchase of ¥30,000 excluding tax or more, get a novelty present

4F

Men's, Ladies',Fashion Accessories

BEAVER

A more 10% off for sale items

4F

Men's, Ladies',Jewelry, Accessories

BLESS

With a purchase of ¥10,001 excluding tax or more, get a BLESS bear. (To the first 10 comsters limited)

4F

Men's, Ladies'

GAS

With a purchase of ¥20,000 excluding tax or more, 10% off
Namba PARKS5F
5F

Baby Toys,Misc. Goods

granpapa

5F

Indoor Plants,Misc. Goods

PlantsPlants

With a purchase of ¥2,000 excluding tax or more, get an original reusable shopping bag

5F

Salt Products

MA-SUYA

With any purchase, get a snow salt sample (5g)

5F

Imported Goods

PYLONES by petitcoquin!

With a purchase of ¥5,000 excluding tax or more, get a fiber bag S

5F

Accessories, Misc. Goods

BLOSSOM famille

With a purchase of ¥5,000 excluding tax or more, 5% off

5F

Baby Goods, Kids' Apparel, Misc. Goods

Kodomonia SHOPBY DADWAY

Novelty present *Offer is subject to availability

5F

Maternity FashionBaby & Kids' Fashion

MIKIHOUSEMUM&BABY

With a purchase of ¥10,000 excluding tax or more, get a mini towel

5F

Canvas Goods, Bags,Leather Goods

LuLu PLUSPLUS

With a purchase of ¥10,000 excluding tax or more, get a novelty present

5F

Nuts & Beans, Peanut Butter

Nuts DOM

Present beans (one mini pack)

5F

Cosmetics,Japanese Goods

KagurazakaCosmetics makanai

With a purchase of ¥5,000 excluding tax or more, get a present according to purchase amount

5F

Tart & Cafe

Délices

¥100 off (excluding tax, for customers who order cake set, discount on the special set price)

5F

Cosmetics,Health Food Items

DHC DirectManagement Store

With a purchase of ¥9,260 excluding tax or more, 5% off

5F

Pots, Pans & OtherKitchen Ware

LE CREUSET

With a purchase of ¥30,000 excluding tax or more, get a novelty present *Limited availability
Namba PARKS6F
6F

Rice Casserole

KOBE MOTOMACHI DORIA

6F

Japanese Cuisine

Okamadomeshi Torafuku

One drink free(draft beer / shochu / orange juice / oolong tea)

6F

Shabu Shabu

SHABU SHABU SHABUYA

10% off for customers who order 'all you can eat'+ 'all you can drink (including alcohols)'

6F

Roast Chicken & Fresh-Baked Bread

SYUKAKUSAI

Lunch: set drink / Dinner: one drink free

6F

Japanese Fried Kebabs

kagura shokudo "KUSHIYA MONOGATARI"

6F

Natural-Food Buffet

SAIJIKI

6F

Handmade Pasta

KinBoshi Pasta

Lunch: set up-grade / Dinner: one drink free (except for fruits soda)

6F

Indian Curry & Cafe

Karma curry&café

6F

Amusement

NAMCO

¥100 off for sticker machine
Namba PARKS7F
7F

syunwaseki Seafood

syunwaseki UOMAN

7F

Special JapaneseGrilled Beef

NIKUDOKORO KURA

one drink free(soft drink / alcohols *except for part of alcohols)

7F

Japanese Cuisine

WASYOKUYA ANBAI

7F

Buffet & Casual Restaurant

LUXIOUS
Namba PARKS8F
8F

Café & Sweets,Casual Dining

PORCO