KANSAI THRU PASS
Valid Area / Railways and public buses in Kansai area like Osaka, Wakayama, Kyoto, Kobe, except JR Line.
*Part of railways and public buses are not available
Validity period / 2-day and 3-day
Discount coupon in guidebook / Discount coupons for about 350 facilities in Kansai area
・2-day pass / Adult: ¥4,300(Child :¥2,150)
・3-day pass / Adult:¥5,300(Child : ¥2,650)
From April 1, 2020 to March 31, 2021
How to buy and use the ticket
1.Click the button below to purchase.
2.After fulfill the applicant information,please pay with your credit card.
3.Confirmation e-mail will be sent to your e-mail address after you finish the reservation on the website.
4.Click the URL in the confirmation e-mail, and please print out your voucher.
5.Exchange with your voucher at designated counters.

Nankai Kansai Airport Station Ticket Office
Exchange is available for the day issued on the voucher limited.
Any 2 or 3 days from April 1, 2020 to May 31, 2021
・Please show your passport when you exchange your voucher to the ticket.
・The pass is for one person only.
・ It cannot be used on JR lines, airport limousine bus or any reserved seat buses.
・When using the reserved seat express train,please purchase a separate express ticket.
*Part of the express trains are available without express ticket.
・Refunds are only possible if your pass and coupon is completely unused. A refund charge will be required.
・In case you lose your ticket, we cannot reissue the ticket.
・Refunds will not be given after the pass has been used, even if some of the transportation services are suspended.
・If the pass is used illegally, it will be invalidated and collected.
・A separate train/bus fare is required when using the pass for transportation outside of the valid area.
Buy tickets
online
1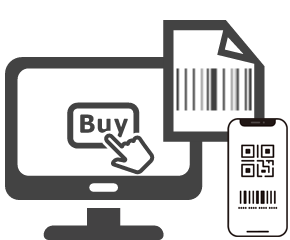 After your purchase, a confirmation E-mail will be sent to your E-mail address. Please print out the voucher from the link in E-mail.
Go to Nankai Ticket Office at Kansai Airport Station.
2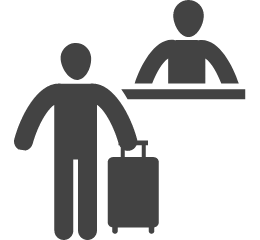 Please show your voucher to the staff to exchange your ticket.
Use the exchanged ticket to take the train,
3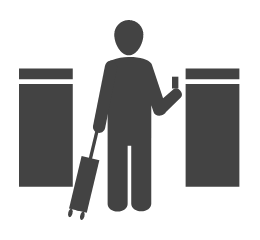 Please tell staff that which ticket you want to buy.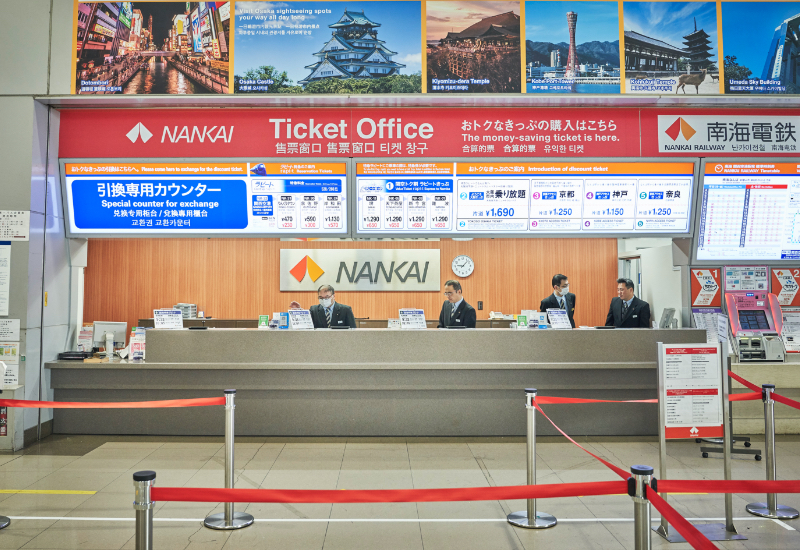 Nankai Ticket Office Kansai Airport Station