RINKU PREMIUM OUTLETS STOPOVER TICKET
One-way discount train ticket
Namba Sta. → Rinku-Town Sta.
Rinku-Town Sta. → Kansai-Airport Sta.
Rinku Premium Outlets Shopping Gift Certificate voucher (¥1,000)
Normal Price
Train ticket(Namba Sta. → Rinku-Town Sta.)¥780+Train ticket(Rinku-Town Sta.→ Kansai-Airport Sta.)¥370+Rinku Premium Outlets Shopping Gift Certificate voucher ¥1,000=¥2,150 (About 20% OFF)
¥1,730 (Adult ticket only)
From April 1, 2020 to March 31, 2021
Nankai Kansai Airport Station Ticket Office
Only on the activation day during the selling period
How to buy and use the ticket
1.Click the button below to purchase.
2.After fulfill the applicant information,please pay with your credit card.
3.Confirmation e-mail will be sent to your e-mail address after you finish the reservation on the website.
4.Click the URL in the confirmation e-mail, and please print out your voucher.
5.Exchange the ticket with your voucher at designated counters.
・Please use the automatic ticket gate.
・If you bring your non-use tickets;information memo,2 train tickets and shopping voucher at sales counter,we will issue a refund.(a refund charge is needed)
・In the unavailable areas, you need to pay additionally.Additional charge is required for limited express trains with reserved seating.Refund is not available in case that train service are suspended once you using the ticket.
・Please show your voucher at Rinku Premium Outlets Mainside 1F Information Center or Seaside 1F Welcome Center to exchange your shopping certificates.Shopping certificates are valid only on the date of you using this ticket to take the train,from 10 AM to 8 PM.
・Some stores do not accept shopping certificates.
・Shopping certificates cannot exchange to money.
Buy tickets
online
1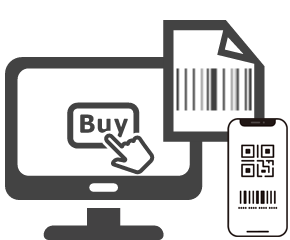 After your purchase, a confirmation E-mail will be sent to your E-mail address. Please print out the voucher from the link in E-mail.
Go to Nankai Ticket Office at Kansai Airport Station.
2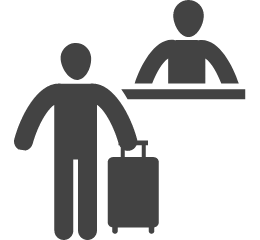 Please show your voucher to the staff to exchange your ticket.
Use the exchanged ticket to take the train,
3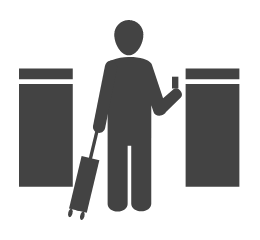 Please tell staff that which ticket you want to buy.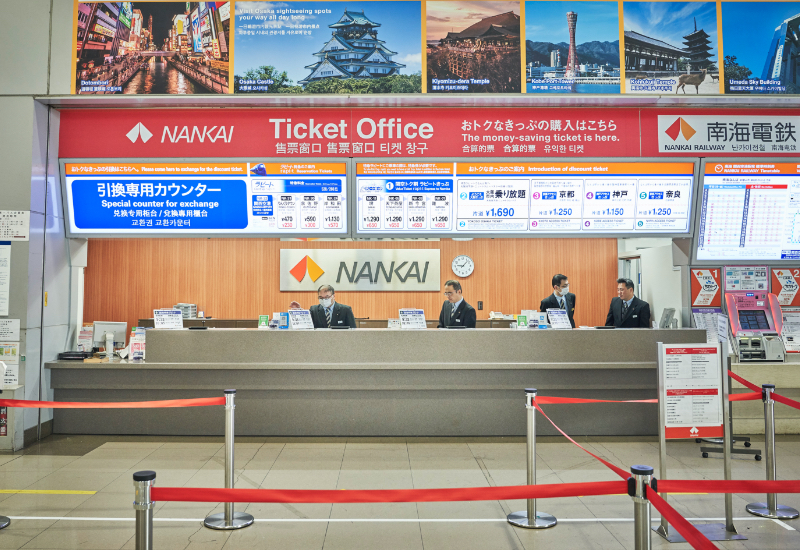 Nankai Ticket Office Kansai Airport Station