Wakayama Sightseeing Digital Ticket
Round trip discount train ticket
Roundtrip between an eligible station (Nanba, Shin-Imamiya, Tengachaya, Sakai) and Wakayamashi Station
Wakayama Bus, Wakayama Bus Naga
[Excludes express buses (Wakayama Chiba Line and Wakayama Shirahama Line) of Wakayama Bus, limousine buses (Wakayama Airport Line), municipality community bus routes (Iwade City Circle Bus, Kinokawa City Circle Bus, Kinokawa Community Bus, and Katsuragicho Community Bus) and Fujitodai Bus]
special coupons for facilities and stores in the Wakayama area
March 27, 2023-March 31, 2024
How to buy and use the ticket
1. Purchase from the purchase page below.
2. Hold the QR code displayed on your smartphone over a designated ticket gate and board a train.
One month from the day after the date of purchase

!Once the ticket expires no refund will be made even if the ticket is unused.
!This ticket cannot be used on the day of purchase.
●Use a designated ticket gate for Nankai Digital Ticket. The ticket cannot be used at stations/exits with no designated ticket gate.
●A refund can be made by yourself, only on this system, and only when the train ticket, the bus ticket and special coupons are all unused. There is no handling charge for the refund.
●If you are using a reserved-seat train, purchase an express train ticket or a reserved seat ticket separately.
●No refunds will be made due to trains not operating or other reasons after you activate the ticket.

●The special coupon for the eligible facility/store is valid only on the day the ticket is used. The coupon may not be used in certain circumstances such as items being sold out.
●The special coupon for the eligible facility/store may not be used together with other discount services.
●If you cannot display the ticket because you have lost your mobile phone, or your mobile phone is broken or out of battery, the ticket cannot be reissued or refunded.
●Some facilities tied to the ticket may change operating hours or close temporarily. Before you purchase or use the ticket please visit the applicable facilities' website.
●Due to system maintenance every Tuesday from 3:00 A.M. to 4:30 A.M., you cannot purchase tickets or select seats.
Buy tickets
online
1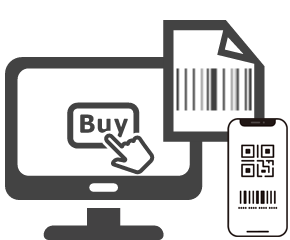 After your purchase, a confirmation E-mail will be sent to your E-mail address.
2

Select a product from the ticket wallet and select your train seat of the limited express.
3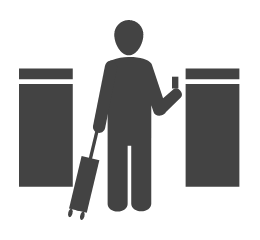 Select " Use the seat " and place your QR code over the reader of the dedicated ticket gate to enter/exit.