Information Center Namba
Information Center Namba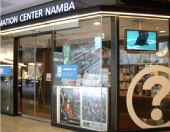 The tourist information center which is located on the first floor of Nankai Namba Station.
In "Nankai travel salon" to provide along, reservation and airline ticket reservation of Hotel are possible.
Open

From 9:00 to 20:00 (Travel agency inside the center's business hour from 10:00 to 20:30)
* 31st December, 2nd January and 3rd January open from 10:00 to 18:00
Closed

1st January
Service contents

Tourist area and transportation information
Railway information
Hotel reservation
our package service,passes for sightseeing sale and many more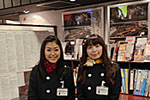 We have English speaker staff in the information center every day. Due to any other language speaker staff is not always there, for Korean, Chinese and sign language user can ask our staff in another place by using the TV phone system. Hearing impaired person can use "Sound hub" to ask us. This service is free of charge.
We have a lot of variety of brochure for tourist area information. Not only about tourist area inside Osaka city, but also for many famous area such as world heritage "Koyasan" and many more. We can help you too to provide information about transportation and how to buy the ticket for it.
We also can help you to reserve hotel, purchasing train or express bus ticket.•
We have a short tour (in Japanese, reservation required) that takes you around Namba to Dotonbori areas, so please feel free to ask us.
For foreign travelers, we take reservations for tours with an English-speaking tour guide to Kansai regions including Osaka, Kyoto, and Nara.