Koyasan, Gokurakubashi Station
Station guide map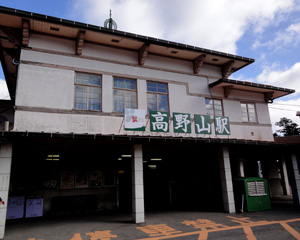 [Koyasan Station]
Koyasan Station is located 867m above sea level which is a doorway to the world heritage, "Koyasan" visited by worshipers from all regions in Japan throughout the four seasons.
Since its opening in June 1930, the station has maintained its nostalgic atmosphere.
There is an observatory room in the waiting room on the second floor where many historical photographs of Koya line trains are displayed.
In 2005, it became a registered tangible cultural property of Japan.
[Gokurakubashi Station]
To head toward the world heritage Koyasan, transfer to a cable car from a train at this station.
On the north side of the station, there is "Gokurakubashi" which became the name of the station and it leads into an approach called "Fudozaka" to Koyasan.
Barrier-free facilities
| | | | | | |
| --- | --- | --- | --- | --- | --- |
| | Koyasan Station | Gokurakubashi Station | | Koyasan Station | Gokurakubashi Station |
| Toilets for disabled | ◯ | ◯ | Ticket gates for the wheelchair users | ◯ | ✕ |
| Facilities for ostomates | ◯ | ◯ | Portable slope | ◯ | ◯ |
| Baby beds | ◯ | ◯ | Stations equipped with wheelchairs | ✕ | ◯ |
| Nursing bed | ✕ | ✕ | Braille tiles for blind and visually impaired | ◯ | ◯ |
| Handrail for disabled | ◯ | ◯ | Braille information boards (with audio) | ✕ | ✕ |
| Elevators | ◯ | ✕ | Braille fare table | ✕ | ✕ |
| Escalators | ✕ | ✕ | | | |
| Slope | ✕ | ✕ | | | |
Services
| | | | | | |
| --- | --- | --- | --- | --- | --- |
| | Koyasan Station | Gokurakubashi Station | | Koyasan Station | Gokurakubashi Station |
| Coin lockers | ◯ | ✕ | Rental car service | ✕ | ✕ |
| Bus platform | ◯ | ✕ | Cash machines (ATM) | ✕ | ✕ |
| Taxi stand | ◯ | ✕ | Foreign exchange | ✕ | ✕ |