Prayer room


Prayer room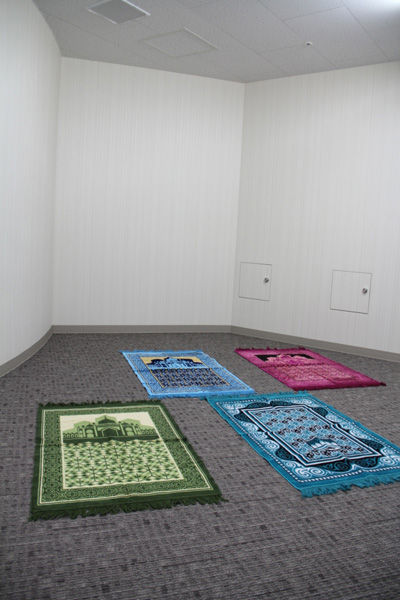 Location

NAMBA CITY main building 1st basement
(5-1-60 Namba, Chuo-ku, Osaka-shi, 542-0076)

Floor area

15.52 area (51.31㎡)

Facilities

separated by gender, washing space

Capacity

5 men / 3 women

Opening hours

11:30AM~8:30PM (last admission 8:00PM)
* closed day is same as NAMBA CITY

Attention

Use of the prayer room is on a first come first served basis. No reservations can be made.
1 group can use the room 1 time for 30 minutes.
No food or drink, napping, smoking and shoes off in the prayer room.
This prayer room is available not only Islamic but also other religions.
How to use
1 Please come to Information counter for apply. (NAMBA CITY main building 1st basement)
2 Please fill in application form: name, nationality and number of people.
3 Our staff gives you the "Prayer room usage pass" and guide to the prayer room.
Pork-free & alcohol-free
Define

"Pork-free & Alcohol-free" isn't means HALAL FOOD. But these foods and drink aren't included below processed food: it was checked by Japan Halal Association.

There are not contain pig-derived ingredients for foodstuff and food additives (emulsifier and enzyme ).
There are not contain alcohol for foodstuff and seasoning.
* For food perfumes, we consider less than 0.5% alcohol = alcohol free.

Foodstuff research organization

NPO Japan Halal Association

Attention

We use non-halal meats: beef and chicken.
Tableware and cookware aren't for Pork-free and Alcohol-free.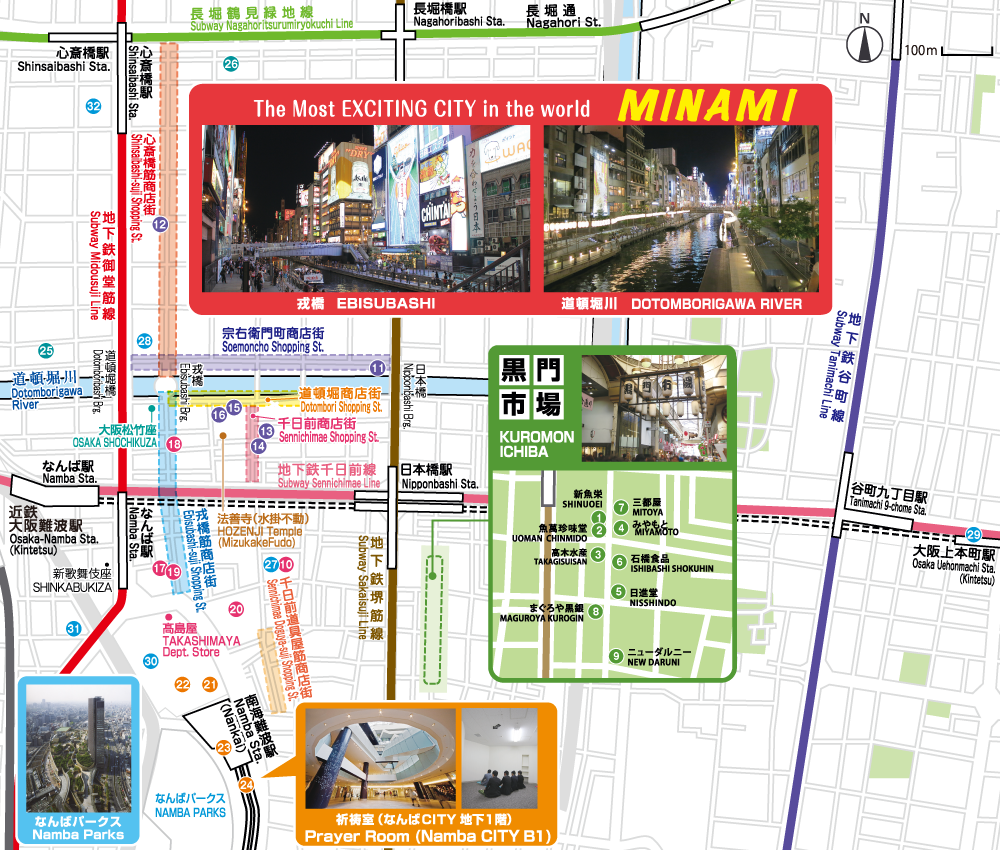 Icon Guide
Eat

Cafe

Souvenir

Muslim staff

Japanese staff with knowledge of Islamic customs

Items for prayer available on request

Muslim-appropriate rooms can be reserved

Qibla direction indicated
1

Cosmetics sales

SHINUOEI

As a long-established fish dealer selling every kind of fish from salt to freshwater, we have developed a unique skin care product called Kuromon Gel Beauty Serum, in collaboration with a network of partners and experts. The moisturizing serum is specially formulated with plenty of high-purity collagen extracted by faculty of the pharmacy department at Kinki University from healthy soft-shelled turtles that are safely grown without antibiotics by Yaizu Fisheries High School. It is a perfect souvenir for your loved one. (Photo: Kuromon Gel Beauty Serum, ¥5400, tax inc.)

Address

1-8-16 Sennichimae, Chuo-ku, Osaka

Tel

06-6213-3607

Hours

9:00-17:00

Shop Holiday

Sundays and public holidays

2

Japanese Delicacies

UOMAN CHINMIDO

The Kuromon Ichiba Market's only shop of Japanese delicacies. Our pre-packed, ready-to-eat goodies are always popular for tonight's quick dish or a snack with drinks. We believe their authentic flavors will satisfy every foodie's appetite. Another great recommendation is dried scallop adductor muscle, with which you can make thick and rich all-purpose soup stock by just soaking in water until tender. (Photo: Dried scallop adductor m uscle from Hokkaido ¥1,950, tax inc.)

Address

1-21-9 Nippombashi, Chuo-ku, Osaka

Tel

06-6645-0053

Hours

9:00-17:30

Shop Holiday

Sundays and public holidays
3

Eel Restaurant

TAKAGISUISAN

An excellent choice for those who want to eat premium Japanese eels at reasonable prices. The savory taste of Unagi (eel) specialties are superb. Freshly filleted the same morning, eels are broiled with a special baste, an exclusive house-blend sauce su pplied by a long-established soy sauce vendor. Shirayaki, plain broiled eel without seasoning, is also great; you can best enjoy the taste of the fish as it is, or sample the perfect combination with wasabi soy sauce. (Photo: Shirayaki ¥3,000, tax exc.)

Address

2-3-18 Nipponbashi, Chuo-ku, Osaka

Tel

06-6634-8018

Hours

Mon-Sat 10:00-17:00
Sundays and public holidays 10:00-15:00

Shop Holiday

irregularly

4

Kimono and Jewelry

MIYAMOTO

Our shop is all about Kimono, which we believe represents the Japanese people's kindness, beauty, and calmness. The selection of beautiful Ukiyo-e bags is a very popular choice for budget-friendly souvenirs. Available in a wide range of colors and prints. (Photo: Ukiyo-e bag ¥1,300, tax inc.)

Address

1-22-19 Nipponbashi, Chuo-ku, Osaka

Tel

06-6643-5291

Hours

9:30~18:30

URL

Shop Holiday

Wednesday
5

Tempura

NISSHINDO

Taste our delicious, freshly-fried Tempura, crispy on the outside, soft and chewy inside! People even love it cold! We proudly offer a good selec tion of vegetables for the fries, as well as the famous big conger eels and Osaka's favorite beni-shoga (red pickled ginger), both of which will make for great snacks while walking around town or with relaxed evening drinks. (Photo: Vegetable Tempura ¥120 each, tax inc.)

Address

2-2-15 Nipponbashi, Chuo-ku, Osaka

Tel

06-6632-7742

Hours

9:00-19:00

Shop Holiday

irregularly

6

Japanese Homestyle Deli

ISHIBASHI SHOKUHIN

Since our 1974 founding, we have been serving the taste of good old Osaka home cooking. A vast selection of lunch boxes full of tasty side dis hes are available. Piping hot Oden (Japanese hot pot dish) is also popular with cu stomers; sample the winter staple featuring Daikon radish and potatoes stewed many hours for maximum flavor. (Photo: Oden ¥90 each, except for Beef Tendon, ¥130, tax inc.)

Address

2-2-20 Nipponbashi, Chuo-ku, Osaka

Tel

06-6632-0433

Hours

9:00-18:30

Shop Holiday

Sundays and public holidays
7

Japanese confectionery

MITOYA

We offer a variety of rice cake products and other goodies such as seasonal fresh wagashi (Japanese sweets), Sekihan (red rice) and other Japanese traditional confectionaries that are handmade with carefully selected ingredients. In the winter we especially recommend An-mochi (rice cake with sweet bean paste) and freshly-pounded Neko-mochi (loaf-shaped rice cake). Try Sakura-mochi (cherry-leaf dumpling) in the spring and Warabi-mochi (bracken-starch dumpling) in the summer; each has its own delicate sweetness and texture. They will delight not only your palate but your heart with a touch of the season. (Photo: Strawberry Daifuku (rice cake with sweet filling) ¥195, tax inc.)

Address

1-22-21 Nipponbashi, Chuo-ku, Osaka

Tel

06-6641-0454

Hours

Weekdays 8:30-19:00
Sundays and public holidays 9:30-18:00

Shop Holiday

Second SundaysObon, when the end of the year may want to sales

8

Tuna Dishes

MAGUROYA KUROGIN

We present premium tuna fish from Oma, Aomori Prefecture, at truly reasonable prices that you can only find in Osaka, the food city. Various tunas are cooked in the way that makes the most of their unique tastes and characteristics. Daily lunch box and bowl specials are available in a wide selection with varied tuna dishes. Sanshokudon or Three Color Rice Bowl with O-Toro (tuna containing higher fat), Chu-Toro (that containing slightly less fat), Akami (red flesh) and the homemade Negitoro (minced fatty tuna belly and Welsh onions) is our customers' favorite, limited to only 20 servings a day. (Photo: Sanshokudon ¥2,000, tax inc. * Limited to 20 servings a day)

Address

2-11-1 Nipponbashi, Chuo-ku, Osaka

Tel

06-4396-7270

Hours

9:00-17:00

Shop Holiday

Sundays and public holidays
9

Curry Restaurant

NEW DARUNI

Since our 1974 founding, we have been serving the taste of good old Osaka home cooking.
A vast selection of lunch boxes full of tasty side dishes are available.
Piping hot Oden (Japanese hot pot dish) is also popular with customers; sample the winter staple featuring Daikon radish and potatoes stewed many hours for maximum flavor.
(Photo: Oden ¥90 each, except for Beef Tendon, ¥130, tax inc.)

Address

2-12-16 Nipponbashi, Chuo-ku, Osaka

Tel

06-6633-4080

Hours

9:00-18:00

Shop Holiday

Sundays

10

Japanese Seasonal Cuisine

"NAGI"

ʻKappo Buffet', healthy Japanese dishes made mainly with seasonal seafood and veggies by skilled chefs, will leave you a complete satisfaction. Conveniently located in the center of the city and accessible from Namba stations through the underground. With your friends and family, please enjoy exquisite cuisine and attentive service at the hotel owned restaurant.
The restaurant accommodates 98 ppl max. Private rooms are also available. (Photo: ʻKappo Buffet' ¥3,150 for male,¥2,940 for female, tax exc.)

Address

Namba Oriental Hotel 2F, 2-8-17 Sennichi-Mae, Chuo-ku, Osaka

Tel

06-6644-8281

Hours

Dinner 17:00-23:00

Shop Holiday

Open everyday
11

Japanese confectionary

FUKUJUDO HIDENOBU

A long-established Japanese confectionary shop founded in 1948. Located at Nanchi-Soemon-cho, once the high-class, prestige geisha district, we are honored to have presented our products to the Emperor and Empress several times, and to have the Imperial Hou sehold Agency as one of our customers. The Muslim-friendly Special Set, an assortment of Japanese confectionery, is available here exclusively. (Photo: Muslim-friendly Special Set, ¥2,214 (according to seasons), tax inc.)

Address

3-14 Soemoncho, Chuo-ku, Osaka

Tel

06-6211-2918

Hours

9:00-21:30

Shop Holiday

Sundays

12

Cheese Cakes

PABLO

This is the only PABLO shop in the Osaka area that has an eat-in area within the shop. We have a variety of products including our signature Yakitate (hot from the oven) Cheese Tarts and, for eat-in only, Mini Cheese Tarts with six flavor variations. Drinks are available in a wide selection, such as fresh fruit smoothies, our specialty coffee,and various seasonal specials. Come and taste our selected menu items. (Photo: Yakitate Cheese Tart, ¥800, tax inc.)

Address

2-3-15 Shinsaibashi, Chuo-ku, Osaka

Tel

06-6211-0826

Hours

11:00-22:00

Shop Holiday

irregularly
13

Enjoy Osaka's Traditional Cuisine, Hari-Hari Nabe, At

TOKUYA

A whale restaurant managed by the famous owner, who has been facing up to the controversial whaling issue. In the hope that the world will better understand the Japanese culture of eating whale meat, which is delicious and effective for fatigue and even good for preventing Alzheimer's disease, she also published a cookbook of whale dishes in English. The owner's most recommended dishes include whale sashimi and steak. (Photo (Serves 1): Sashimi, ¥1,200, Steak, ¥1,200, tax exc.)

Address

Kamigata building 2F, 1-7-11 Sennichimae, Chuo-ku, Osaka

Tel

06-6211-4448

Hours

Weekdays 16:00-22:00
Sat 12:00-22:00
Sundays and public holidays 14:00-21:00

Shop Holiday

Open everyday

14

Ten-don (Tempura Rice Bowl)

TENDON NO MISE

We have been serving our special ten-don since our founding in 1960. The combination of crispy fried vegetables and seafood, topped with a slightly sweet soy sauce topping is superb. The menu includes only Ten-don and Aka-dashi (red miso soup) both of which are carefully and skillfully prepared. We are just a three minute walk from the Nipponbashi Station on the Subway Sakaisuji Line. Feel free to drop in on us anytime you're in the mood for a tasty ten-don. (Photo: Ten-don, ¥650, tax inc.)

Address

1-8-16 Sennichimae, Chuo-ku, Osaka

Tel

06-6213-3607

Hours

10:00-19:00

Shop Holiday

Wednesday and the third Thursday of the month
15

DOUTONBORI

IMAI

Look for a willow tree in front of the shop at the center of the vibrant Dotonbori district. The shop's signature broth has a refined, light taste while having great body and rich flavor. Kitsune-udon (udon with sweetened fried tofu, ¥700) is a true Osaka taste and Muslim friendly, as is Tempura-udon (¥1,350). Try Warabi-mochi (bracken-starch dumpling, ¥400) for dessert. (Photo: Kitsune-udon, ¥700, tax exc.)

Address

1-7-22 Doutonbori, Chuo-ku, Osaka

Tel

06-6211-0319

Hours

Mon, Tue, Thu-Sun 11:00-22:00 (Last Call at 21:30)

Shop Holiday

Wednesday

16

Souvenir NANIWA MEIBUTSU

ICHIBIRI-AN DOTOMBORI STORE

If you are looking for some nice souvenirs from Osaka, here is the right place for you! We have more than 4,000 Osaka's unique and favorite souvenir items in a large space. Located right beside the Kuidaore Taro, a mechanical clown doll which is Osaka's much-loved mascot, we are the only store that has all kinds of Taro's official merchandises goods. (Photo: Kuidaore Taro "Action" Cell Phone Strap, ¥463, tax Inc.)

Address

1F, Nakaza-Cuidaore Bldg, 1-7-21 Dotonbori, Chuo-ku, Oseaka

Tel

06-6212-5104

Hours

10:00-22:00

Shop Holiday

irregularly
17

OKONOMIYAKI

CHIBO Elegance Ebisubashi shop

Okonomiyaki (Japanese savory pancake) is a world-class taste of Osaka. With the simplest ingredi-ents such as flour, cabbage, and water, our specialties are always cooked honestly without cutting any corners. The healthy Negiyaki (okonomiyaki with green onion) is one of the ladies' favorites, and we also recommend it as a Muslim friendly dish that is prepared and served for you with our whole heart. Visit one of our five stores near you in the Minami area. (Photo: Negiyaki, ¥1450, tax exc.)

Address

EBISUBASHI・ENT B1, 3-8-22 Namba, Chuo-ku, Osaka

Tel

06-6634-8181

Hours

Lunch 11:30-14:30
Dinner 17:00-23:00
Fri, Saturday only ntil 24:00

Shop Holiday

Open everyday

18

Kelp Shop

OGURAYA OSAKA EBISUBASHISUJI

Founded in 1848, Oguraya is a long-established and reputable kelp (or kombu in Japanese) dealer. The flagship store sells a wide variety of assorted kombu products. Kombu Tea, full of amino acids, is beneficial for your health and will add a savory flavor to pasta dishes if you stir-fry them together. The handmade Oboro Kombu (dried and shaved kelp), using wild Ma-Kombu or L. Japonica from the Osatsube beach in the south part of Hokkaido, is one of the finest products of the traditional craftsmanship. (Photo: Assorted kombu, ¥500, tax inc.)

Address

1-6-12 Namba, Chuo-ku, Osaka

Tel

06-66211-0012

Hours

9:30-21:00

Shop Holiday

New Year's Day
19

Ice Candy (Popsicles)

HOKKYOKU Namba Main Shop

We have Ice Pops with eight colorful flavors including milk, azuki (red bean), and pineapple, which are our classics from when we started the shop, as well as today's favorites cocoa, strawberry, green tea, sweet potato, and orange. Every one of them is made by skilled artisans, with selected ingredi-ents and special recipes. (Photo: Assorted Ice Candy ¥120, tax exc.)

Address

3-8-22 Namba, Chuo-ku, Osaka

Tel

06-6641-3731

Hours

10:00-22:00

Shop Holiday

Open everyday

20

Conveyer-belt sushi

ISONO RYOTARO

Cheapest conveyer-belt sushi in Namba. Fresh fish from our special route! Easy order with touch-panel. Foreign language menu. Reservation for ONLY foreign tourist group.
130 seats. Many light grilled fish menu, so don't worry about raw fish! 1 min. walk from Namba TAKASHIMAYA. (Photo: Lunch Set A ¥380, tax exc.)

Address

12-35 Namba, Sennichimae, Chuo-ku, Osaka

Tel

06-6645-7345

Hours

11:00-23:00

Shop Holiday

Open everyday
21

CAFE KIEFEL

For more than forty years since its establishment, Kiefel has been serving specially coffee roasted in-house. A food menu is also available, including delicious homemade cakes and healthy meals. Drop in for coffee on your way home from shopping or work, or even for a business coffee meeting. (Photo: Seafood and tomato pasta, ¥910, tax inc.)

Address

2F, Namba CITY Main Bldg, 5-1-60 Namba, Chuo-ku, Osaka

Tel

06-6644-2724

Hours

6:30-23:00

Shop Holiday

irregularly (on the same daysthe Namba CITY building is closed)

22

Cafe

EIKOKUYA

The comfortable, relaxing atmosphere of our European-style coffee room is our customers' favorite. Taste our freshly baked Plain Waffle, with butter and maple syrup if you prefer. Our aromatic coffee is carefully brewed at the best temperature for the time of the year, with beans roasted in the most appropriate way in accordance with the characteristics of the bean. (Photo: Plain Waffle, ¥540, tax inc.)

Address

B1F, Namba CITY Main Bldg, 5-1-60 Namba, Chuo-ku, Osaka

Tel

06-6644-2609

Hours

8:00-22:00

Shop Holiday

irregularly (on the same daysthe Namba CITY building is closed)
23

Fresh fish Tenka no daidokoro

DAIKISUISAN

The natural fish direct from the sea on Daikisuisan special route.Enjoy freshest sashimi, boiled and grilled fish at an attractive price! Don't miss rare parts and cheek of bluefin tuna. Whale meat menu also available.(Photo:assorted sashimi of bluefin tuna, ¥1,580, tax exc.)

Address

1F, Namba CITY Main Bldg, 5-1-60 Nanba, Chuo-ku, Osaka

Tel

06-6644-2738

Hours

11:00-23:00

Shop Holiday

irregularly (on the same daysthe Namba CITY building is closed)

24

Japanese Sweet Parlor

AMATO MAEDA

We offer you the delights of Japanese-style sweets and desserts homemade in a traditional manner using only carefully selected ingredients. Dumplings are available piping hot for both dine-in and to-go. Enjoy one of Osaka's specialties, Maeda's freshly-grilled Mitarashi dango (dumplings dipped in soy-and-sugar-based sauce), at the shop or bring some home as a nice souvenir. (Photo : OISHISA-GYUT set Petit Cream Mitsumame ¥750, tax inc.)

Address

1F, Namba CITY South Bldg, 5-1-60 Namba, Chuo-ku, Osaka

Tel

06-6644-2812

Hours

Mon-Fri 11:00-21:50
Sat-Sun 10:00-21:50

Shop Holiday

irregularly (on the same daysthe Namba CITY building is closed)
25

OMURICE (Japanese Rice Omelet)

HOKKYOKUSEI

Hokkyokusei is the birthplace of Omurice. Originally we cooked for regular customers who had weak stomach. Serve deliciousness and kindness wrapped in fluffy eggs. Enjoy at Shinsaibashi original store & patio which are Japanesque style house! From subway Namba sta. Exit No.25, Go north along Mido-suji and turn left to the Kyuzaemon-suji. You will find on your Left. (Photo: Mushroom omurice ¥720, tax inc.)

Address

2-7-27 Nishi-Shinsaibashi, Chuo-ku, Osaka

Tel

06-6211-7829

Hours

Weekdays 11:30-22:00
Sat-Sun and public holidays 11:00-22:00

Shop Holiday

Only regular holiday of December 31 and January 1

26

 

CAFE BINTANG

While many Balinese Indonesian cuisine, and enjoy the cuisine of Javanese, only here in South! From standard menu that including Nasi Goreng, I offers a wide variety to the Local menu. It also offers Space of Choice.(Photo: Nasi Goreng ¥850, tax exc.)

Address

1-19-19 Higashi-Shinsaibashi, Chuo-ku, Osaka

Tel

06-6241-8955

Hours

Tue-Fri 18:00-23:00
Saturday and Sunday 12:00-15:00, 18:00-23:00

Shop Holiday

irregularly
27

NAMBA ORIENTAL HOTEL

Only 5 minuts walk from Namba station.
Easy walking distance of main sightseeing area such as Dotonbori. THE GARDEN FLOOR faces onto the patio.
Other floors have individual attractive concept.
Rooms are luxury and spacious.
Choose rooms according to your trip style and favor.
Relax and enjoy special time in our spacious Hotel.
(Photo: (top) Standard twin room, (bottom) Seosonal Japanese-style Kappo Buffet)

Address

2-8-17 Sennichimae, Chuo-ku, Osaka

Tel

06-6647-8111

28

CROSS HOTEL OSAKA

We offer easy access to our hotel with just a one minute walk from the center of Dotonbori district, a three minute from Namba Station, or a five minute from Shinsaibashi Station both of which are on Osaka's Subway System. We have a variety of guest rooms including singles sleekly decorated in pure white and twins in which red is elegantly used as an accent. For your comfort and relaxation each room is furnished with a spacious bathroom with a bathtub, and a space for washing. (Photo: (top) twin room, (bottom) prayer items including a Qibla compass)

Address

2-5-15 Shinsaibashi, Chuo-ku, Osaka

Tel

06-6213-8281※Seal of Qibla in preparation
29

SHERATON MIYAKO HOTEL OSAKA

As we started offering our new Muslim-friendly menu items, we obtained the Muslim-friendly certification from the Kyoto Council for Sharia and Halal Affairs. This is the very first time the council issued the certification to an Osaka-based hotel as well as to a buffet menu. (Photo: (top) Breakfast Buffet at Restaurant and Lounge eu (yu), (bottom) Halal Japanese Lunchbox Miyako at Japanese Restaurant Uemachi)

Address

6-1-55 Uehonmachi, Tennoji-ku, Osaka

Tel

06-6773-1111

30

Swissôtel Nankai, Osaka

For groups which are in need of a prayer room, our conference rooms are available upon request (Paid service).We also provide Halal menu for your banquet events either from outside supplier with kitchen utensils, tableware, Ingredients all Halal certified or from hotel's own banquet kitchen with a Muslim friendly food such as vegetarian or Pork-Free menus. (Advanced reservation required)

Address

5-1-60 Namba, Chuo-ku, Osaka

Tel

06-6646-5124 (Sales)
31

HOTEL ICHIEI

Hotel Ichiei offers a total comfort and relaxation of a ryokan (traditional Japanese-style inn) in the midst of the metropolis. Guests can enjoy cozy Japanese-style rooms, each with its unique charm, and feel the traditional culture. There is a Japanese Dining called Hotaru on the eighth floor, which offers the Realpower, an energy drink that obtained the world class certification of HALAL.(Photo: (top) Special Japanese Room Sekitei-no-ma (Rock garden room), (bottom) the Japanese Dining Hotaru)

Address

1-6-8 Nambanaka, Naniwa-ku, Osaka

Tel

06-6641-3135

32

HOTEL NIKKO OSAKA

Hotel Nikko is facing to Midosuji which is one of the main streets in Osaka. The hotel is connected to the exit #8 of Shinsaibashi Station, Nagahori-Tsurumiryokuchi Line of Osaka's Subway System, which allows you to get to the hotel directly without getting wet even if it is raining. The popular dotonbori and the shopping street are located in an easy walk from the hotel. We are in alliance with the Universal Studios Japan theme park, too. (Photo: (top) View from Midosuji St., (bottom) Standard twin room)

Address

1-3-3 Nishishinsaibashi, Chuo-ku, Osaka

Tel

06-6244-1111