Discount Tickets
KYOTO SIGHTSEEING PASS [1day]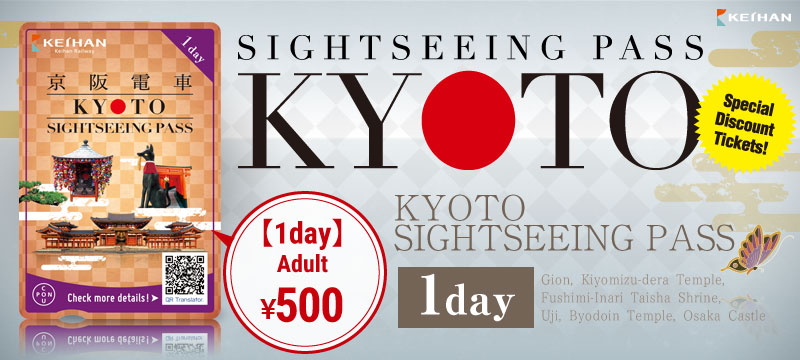 It is a ticket convenient for sightseeing in Kyoto.
Ticket includes Area of coverage

Kyoto Sightseeing Pass (1-day)

Available area
[Keihan Railway]
▪ Yawatashi Station - Demachiyanagi Station
▪ Chushojima-Station - Uji Station
▪ Otokoyama Cable Line (Yawatashi Station - Otokoyama-sanjo Station)

Discount Coupon

Available to use at each facilities belong Keihan line

Selling period
From April 1, 2018 to March 31, 2019
Validity period
Any one day until April 30, 2019 from the date of purchasing your ticket.
Price

Adult : ¥500 (Children ticket is not for sale)

Exchange counter
Nankai Kansai-Airport Station Ticket Office
Reminder notes

This is the special discount Keihan Railway train ticket.
Keihan Railway Official Web site

Non-refundable
Please show your passport when you exchange your voucher to the ticket.
For using this ticket, limited to 1 ticket per customer.
This ticket is unavailable to use from Kansai-Airport Station.
If you use the train in unavailable area, you need to pay an extra fee.
In case you lose your ticket, we cannot reissue the ticket.